Theater for the New City
Crystal Field, Executive Artistic Director
and The Barking Dog NYC Productions
present
LUDWIG AND BERTIE
A COMEDY OF IDEAS
Written by Douglas Lackey
Directed by Alexander Harrington
World Premiere
September 26 to October 13, 2019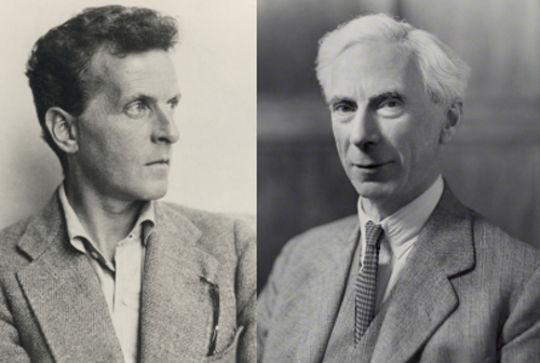 | | |
| --- | --- |
| Ludwig Wittgenstein | Bertrand Russell |
"Ludwig and Bertie" by Douglas Lackey, directed by Alexander Harrington, takes on the forty-year love/hate relationship between Ludwig Wittgenstein and Bertrand Russell, two leading twentieth-century philosophers, from their first meeting at Cambridge in 1911 to Wittgenstein's death in 1951.
Russell is heterosexual, hedonistic and agnostic; Wittgenstein is puritanical, gay and Jewish. Russell is an imprisoned pacifist; Wittgenstein a decorated combat soldier. Wittgenstein is intensely religious; Russell mocks religion from first to last. Wittgenstein regards Russell as his "mental father," but their relationship has elements of rivalry.
In Lackey's telling, Wittgenstein's thinking kindles the demolition of facts in our post-truth world while Russell's inspires the National Science Foundation. This play will show you how.
This play is a successor to Theater for the New City's production last season of "Arendt-Heidegger: A Love Story" by Lackey, which was also directed by Harrington.
WITH
Connor Bond* as Ludwig Wittgenstein
Stan Buturla* as Bertrand Russell
Pat Dwyer* as G.E. Moore/Warden/Ensemble
Alyssa Simon* as Lady Ottoline Morrell/Marguerite Stonborough
Daniel Yaiullo as David Pinsent/Ensemble
Michael Bradley as Minister/Ensemble
Hayden Bercy as Young Wittgenstein/Austrian Student
Courtney Fenwick - Production Manager
Alexander Bartenieff - Lighting Design
Anthony Paul-Cavaretta - Costume Design
Jon DeGaetano - Scenic Design/Projections
Ericka Lee Conklin - Stage Manager
K J Morton - Assistant Stage Manager
Keri Safran - Dialect Coach
Jonathan Slaff - Publicist

L-R: Stan Butera as Bertrand Russell, Connor Bond as Ludwig Wittgenstein.
Photo by Jonathan Slaff.

September 26 to October 13, 2019
Theater for the New City
155 First Ave (between 9th and 10th Sts.)
Thurs - Sat at 8:00 PM, Sun at 3:00 PM
$15 general admission
Box office: (212) 254-1109
www.theaterforthenewcity.net
*-appears courtesy of Actors Equity Association